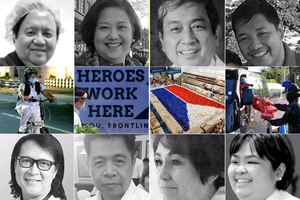 By Fr. Alex Castro
             One of the most moving reflections on the Seven Last Words at the Diocese of Kalookan was a sharing by Dr. Ervin Espinosa about his experience as a frontliner. As frontliner, he described himself: "Ako ay sugo Niya. Ako ay karugtong ng mapagpagaling na kamay Niya. Lumalaban ako para sa kapwa ko. Pinaninindigan ko lang ang aking sinumpaang tungkulin sa bayan at sa Diyos".
             Such are the words of our new heroes of today during this time of pandemic. They are not the heroes that we knew before: who can fly, who can transform, who can disappear or who have supernatural powers. Rather, they are persons whom we meet everyday: hospital personnel, police and armed personnel, workers from essential public utilities and facilities. But they have one thing in common: they risk their lives for the sake of others and they see their strength in God and not on any supernatural powers. They echo the words of Dr. Espinosa: Lumalaban sila para sa kapwa nila. Pinaninindigan nila ang kanilang sinumpaang tungkulin sa bayan at sa Diyos!
           Their determination makes the last line of our National Anthem: "Ang mamatay ng dahil sa iyo" not only patriotic but also spiritual because it is their pledge for our nation and for God.
            As we celebrate Independence Day on June 12, let us remember our new heroes who risk their lives for the sake of others at the service of our nation and our God! Mabuhay!