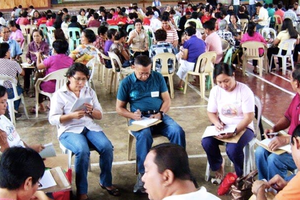 By Fr. Bernard Holzer, AA
In this time of pandemic and quarantine, we are suffering from not being able to receive the actual Body of Christ in the Eucharist. We believe yet we only remember what Jesus asked us to do: "Do this in memory of me."
But Christ also asked us to remain in him and to build his Body by listening and meditating on his Word. We are also asked to wash the feet of our brothers and sisters by taking care of them, even by being connected with them through social media.
Our churches are closed to large gatherings. But we have rediscovered that that within basic ecclesial communities, find ourselves with God, even without the presence of a priest or a minister. We listen to the Word of God and meditate on it. We feel inspired by it that we share what we believe and support one another. This is a way to remember the Lord. We are rediscovering ways of worship and communication within our homes and our Church.
How many families and communities have practiced family prayer by praying the rosary, reading the Gospel of the day, praying for each other – especially for the poor, the sick, and those who passed away? How of us have set up a small family altar or a prayer corner? God is truly present among us. He is in our midst.
When the quarantines are over, let us continue to taste the presence of Jesus among us in Scriptures, the family, and even in those who suffer. Thank you, Lord, for the gift of your Spirit that inspires what is good far beyond our material churches.