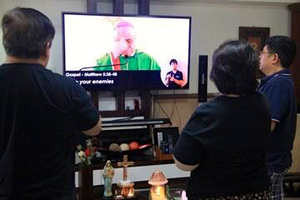 By Judith Ayo
Communication per se covers a wide range of topics for discussion and one of them is the importance of communication in faith. From a layman's perspective and understanding, what does this mean?
Every day, we communicate in different ways: in words, in our body gestures and even in silence. In the practice of our faith, all these are used.
Believers in Christ express their feelings, longings and dreams in PRAYERS. By praying, a more exclusive and personal relationship with the Lord is achieved. "Come to me all you who labor and are burdened and I will give you rest." (Matthew 11:28)
The passage invites us to communicate and present to the Lord what matters most in our lives - problems, successes and many more. This strong belief in the power of prayer is our way of communicating to the unseen Lord; a test of our unwavering faith.
As baptized Christians, one of our missions is to preach the Good News and this involves the art of communication. With the advent of modern technology, this is made easy and fast. Just a click of the tab, messages can be "zoomed" to one and many.
Online activities like masses, prayers, concerts and other religious affairs become the accepted mode for reaching out to people. Through these avenues in communication our faith is strengthened and deepened. With renewed spirit, we are ready to face the "NEW NORMAL" with confidence and hope. Truly, faith will never falter.