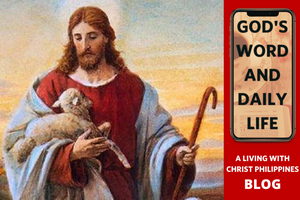 By Marc Gerona
Jesus said that his sheep belongs to him because he knows them and they follow him. This is the mark of a Good Shepherd; the shepherd knows and follows the sheep. Being a good shepherd is not a matter of entitlement, the shepherd spends time with his sheep. He sometimes bleeds with his sheep to save them from wolves and other wild animals.
We are both shepherd and sheep. We are shepherds because we lead a certain group like our own family and company. We too are sheep because we are followers of Christ. Jesus is the true and only shepherd for he has laid down his life for his sheep. He left the 99 to look for the one, loss sheep. If I were him, I would let go of the one lost sheep. I have 99, anyway! But no, he looked and found the one lost sheep? His only reason? It is his. The sheep is his. That reason is enough.
Are we loving enough like the Good Shepherd? Are we willing to risk our lives for the one lost sheep?