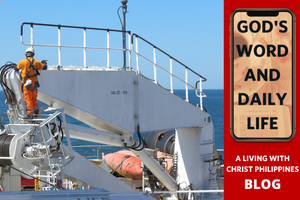 By Rems Noquiao
On Sept. 24, the Catholic Church celebrates the National Seafarers' Day, an annual celebration organized by the Apostleship of the Sea. The day lets Filipino Catholics remember Filipino seafarers who on account of employment at sea are often deprived of the grace and comfort of the Holy Mass.
The role of seafarers often goes under-appreciated within the maritime industry and by the general public. Seafarers are an essential component in world trade, keeping the economy moving and delivering the goods and fuels we use every day.
Thus, on Sunday, we pray for seafarers' safety and grace so that their bonds of love and loyalty to their families may remain strong in spite of their physical separation.
Let us pray:
Watch over all who go down to the sea in ships – on business, for leisure, or to rescue those in peril or difficulty. Keep them from danger, befriend them in loneliness, and bring them safely home to those they love; through Jesus Christ our Lord. Amen.