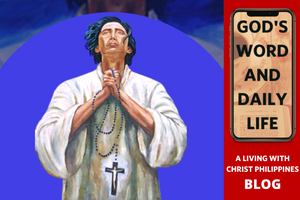 By Jen Avisado
On September 28, the entire Philippine nation will rejoice for the Feast of the first Filipino saint- Saint Lorenzo Ruiz de Manila!
St. Lorenzo's sainthood tells that anyone can be a saint. Saint Lorenzo Ruiz or more known to Filipinos as San Lorenzo Ruiz is an ordinary man.  Just like us, he simply wants to have a happy, peaceful, harmonious life.  However, his circumstances changed and he was thrust into a situation so complicated.   Yet, even if he didn't want what was happening in his life, Saint Lorenzo Ruiz faced it with unwavering courage and unyielding faith and trust in God.  In the end, he willingly gave his life to a God who is truly deserving of all Saint Lorenzo Ruiz can offer.
Saint Lorenzo Ruiz encourages us to never lose faith and to always trust in God no matter what.  Surely, God was with him during those terrible last days and though his body was suffering, his soul found happiness, peace and assurance that his suffering was not in vain.
Let us pray to San Lorenzo:
O most merciful and almighty God, You bestowed as a gift to Lorenzo Ruiz the strength to withstand the overpowering forces of death for the sake of his faith in You. Through his prayers, help us to follow his example by overcoming all life's trials and eventually, increase our hope and love in You. Amen.