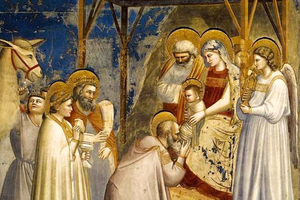 By Fr. Bernard Holzer, aa
« Where is the newborn king of the Jews?" asked the magi from the East to King Herod in Jerusalem.
Where can I find Jesus today to pay him homage?
Let me share with you the story of the monk Epiphanus.
One day Epiphanus discovered a special gift: how to paint beautiful icons. He wanted to paint the face of Jesus. But where could he find a model that expresses at the same time suffering and joy, death and resurrection, divinity and humanity?
Epiphanus then went on a journey. He travelled around the Mediterranean Sea examining every face. He found nothing that could represent Christ. Tired, he fell asleep repeating the words of the psalm: "I look for your face, Lord, show me your face!"
During the night, he had a dream. An Angel appeared to him, he brought him back to the people he met, and for each person he pointed out to him a detail that made this face similar to the face of Jesus: the joy of a lover, the innocence of a child, the strength of a peasant, the suffering of a sick man, the fear of a condemned person, the tenderness of a mother, the dismay of an orphan, the hope of a young, the mercy of a confessor, the mystery of the bandaged face of a leper......
And then Epiphanus understood. He returned to his convent and went to work. The icon was ready in a short time and he presented it to his abbot. He was surprised: the icon was wonderful. He wanted to know who was the model he had used because he wanted to show him to the other artists in the monastery. The monk replied: "No one, father, has served as a model for me, because no one is like Christ, but Christ is like everyone. You do not find Christ in the face of one person, but you find fragments of the face of Christ in every person. »
During this New Year, let us find Christ in every person: "Fratelli Tutti" – "All brothers and sisters"! Happy and Blessed New Year!