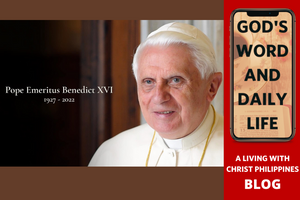 By Father Bernard Holzer, aa
On the last day of 2022, God has called to eternal life Pope Emeritus Benedict XVI.
In his last breath, he said, "Jesus, I love you."
What better summary of a life given to the Church. What better program for the year that opens before us: to know Jesus better in order to love him better and thus become better servants of the Church and of society.
What better resolution is there than to put Jesus and his Message at the center of our lives?
Thank you, Lord, for the life and teaching of Pope Benedict XVI. Thank you, Lord, for the gifts you give us and for inviting us to put ourselves at the service of others and the planet. Thank you for all the companions, sisters and brothers, you had blessed us on our way. They lead us to You.
Happy and Blessed New Year!