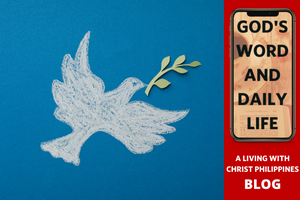 By Fr. Bernard Holzer, aa
Together with Pope Francis, let us commit ourselves to peace!
As war rages again and terror takes hold in the homeland of Jesus, as force of arms and bloodshed destroy peace, Pope Francis expressed his apprehension and sorrow over the Hamas offensive and massacres in Israel:
"I pray for those who are living through hours of terror and anguish...
Let the attacks and weapons stop, please! »
 In this way, he shows us how to pray and act.
Let us pray, let us pray for peace, for the leaders of nations to meet, to stop terror and war, to make gestures of peace. As for us, let us act for peace, let us take acts of solidarity around us and pray:
Lord Jesus, grant that "justice and peace may embrace", make us peacemakers!
Let us also pray the Prayer for Peace by St. Francis of Assisi:
Lord, make me an instrument of your peace: where there is hatred, let me sow love; where there is injury, pardon; where there is doubt, faith; where there is despair, hope; where there is darkness, light; where there is sadness, joy. Amen.