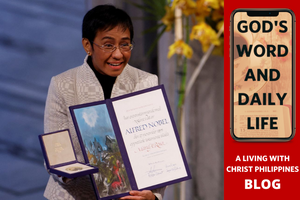 By Fr. Bernard Holzer, aa
"Prepare the way of the Lord, make straight his paths." (Matthew 3:3) 
During this time of Advent, the voices of the prophet Isaiah and of the prophet John the Baptist resonate in the liturgy. They invite us to conversion, to change our ways of thinking and acting.
On December 10, Maria Ressa was awarded the Nobel Peace Prize. It is another prophetic voice in this Advent Season. She is inviting us to reflect and commit ourselves to a new world. Let us let ourselves be challenged by this voice: it is a meaningful preparation for Christmas.
 « We are standing on the rubble of the world that was, and we must have the foresight and courage to imagine what might happen if we don't act now, and instead, create the world as it should be - more compassionate, more equal, more sustainable.
To do that, please ask yourself the same question my team and I had to confront 5 years ago: what are you willing to sacrifice for the truth?
 You have to know what values you are fighting for, and you have to draw the lines early—but if you haven't done so, do it now: where this side you're good, and this side, you're evil.
 What are YOU willing to sacrifice for the truth?
 Now it's time to build—to create the world we want.  
Now, please, with me, close your eyes. And imagine the world as it should be. A world of peace, trust and empathy, bringing out the best that we can be.
Now let's go and make it happen. Let's hold the line. Together."
You can read the full transcript of Maria Ressa's Nobel Peace Prize acceptance speech: https://www.youtube.com/watch?v=m1w3rRRBoq8